Missions Work in Malawi
We supported Jackie Griffiths when she was a missionary in Haiti and in 2014, we agreed to renew our support as she went back to Malawi, to Hope Village, Chikwawa.
In 2014 we sent £738.07: in 2015 £1,926.50: in 2016 £1,557.83: in 2017 £1,485.53. So far in 2018 we have sent £1019.03.
Jackie writes (July 2014):

Elim Missions Department recently informed me that your church wish to support me in my forthcoming return to Malawi. I would be grateful if you could please pass on my sincere thanks to the leaders and church members alike. I really do appreciate your interest and am humbled by people's willingness to support me in this.
Jackie's Latest Newsletter December 2017
Dear Friends,
Greetings from Malawi!
As I write this I am aware that many of you have been facing snowy conditions and trying to keep warm, whilst it is the hot season here just before the heavy rains. Though one advantage of being in Blantyre is that it is much less hot than in Chikwawa. I am no longer having to invent ways of trying to get cool by spending my evenings in a cool bath and lying on ice blocks in bed! The power situation is just as bad though and I am so thankful for my inverter battery. Power is off almost every day for 24 hours at a time then comes on for about 6 hours before the next 24 hour stint. It really is crippling the country.
I am adjusting slowly to life in Blantyre but still miss the folk at Hope Village, especially the children. But I have been down to visit them regularly and hang out with them. They wait for me by the road and give me the usual warm welcome.
At the end of October I had the visit of my good friend Mary Causer and it was lovely to have her company here for two weeks. We even managed a trip to the Lake to soak in some of the beautiful sunshine.
As I mentioned in my last newsletter, Elim Malawi is currently in a state of transition as the present General Superintendent retires in February. At the beginning of December the new General Superintendent, Pastor Peterson Saezi was voted in and he will take over at the beginning of March when we will have the visit of a UK delegation, including Paul Hudson and Roy Johnston and Peter Hannam. I had the opportunity to spend some time with him a couple of weeks ago when I visited his home and church in Bangula, Nsanje Region and I am very much looking forward to working alongside him.
My main task during this period has been to visit the seven Elim schools and eight orphan homes in the various regions around the country and assess the current situation. Some of these visits have taken me away for a few days at a time and it has been good to get back out into the villages. It has also been good to renew fellowship with many people that I knew from the time I was previously here ten years ago.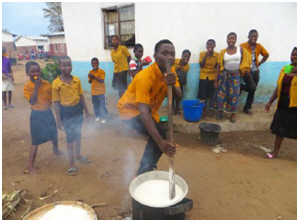 I take this opportunity to wish you all a very Happy Christmas as we celebrate the birth of Jesus, the greatest gift given to us. As always, I appreciate your love and support throughout yet another year.
With love,
Jackie x